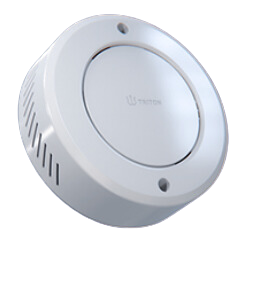 3D Sense Pro (NEW!)
Smart Safety Sensor
End bad behaviors and gain peace of mind with instant alerts to vaping, smoking, and noise anomalies associated with violence and vandalism right to your phone or computer.
A school should not be a dangerous place. Give your community peace of mind with 3D Sense Pro. Allow students to take back their bathrooms from vaping and aggression and let teachers spend their valuable time teaching, not monitoring bathrooms and locker rooms.
Key Features:

Advanced Vape Detection
3D Sense vape detectors are trusted in hundreds of schools across the world.
3D Sense Pro uses the same industry-leading vape detection sensors and algorithms to accurately detect student vaping and other nicotine and THC emissions.
Highly Accurate With Low False-Positives

Low Response Time

Customizable Alerts

Nicotine, THC, and Other Emissions
Keyword & Aggression
It's as simple as an alert whenever a someone says "help me," "stop it," or another keyword. Keyword detection allows students to feel safe in school rooms, especially where cameras are not allowed like bathrooms and locker rooms. Staff can respond quickly when keywords indicate bullying, violence, or vandalism.
Highly Accurate ML-Backed Keyword Sensing

Low False-Positives

Keywords and Phrases constantly added through OTA updates

Privacy Comes First With No Audio Recording
Tamper Alarm
Protect your investment with 3D Sense Pro tamper alarm and alerts.
Siren Activated When Tampering is Detected

An Instant Alert to Your Phone and Email when Tampering is Detected

Made of Rugged Plastic and Compatible with Tamper-Proof Screws and Protective Metal Cages
Air Quality Insights
Monitor your indoor air quality and receive alerts to IAQ anomalies in any of seven metrics used to track air quality.
Temperature

Humidity

Volatile Organic Compounds (VOCs)

PM1 .0, PM2.5, PM4 and PM1 0

Air Quality Index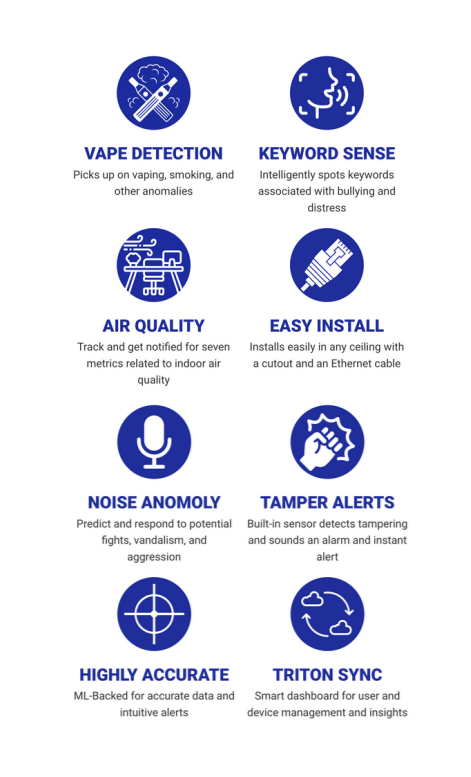 3D Sense Vape Detector
The most accurate and affordable solution to end the vaping crisis at your school or district.
Detect vaping
Deter unhealthy habits
Defeat vaping once and for all
Simple Setup
Installs with just a click.
3D Sense comes pre-assembled

Installation takes only a few minutes

Instructions are easy to follow

No need to worry about changing batteries or connecting to WiFi

Ethernet used for power and data connection
Automatic Alerts
Know when a student vapes.
Automatic alerts whenever vaping is detected

On-device intelligence ensures a low margin of error

Alerts are instantaneous allowing you to react quickly

Alerts can go to multiple people (eg. principal, nearby teacher, etc.)

Easily synchronized with security cameras.

Tested to detect vaping emitted from Juul, Puff Bar, SMOK, Vuse, and many other vape and THC emitting vape devices (dab pens)