Suprema
Suprema is a leading global provider of access control, time & attendance and biometrics solutions. By combining world renowned biometric algorithms with superior engineering, Suprema has introduced innovations to the security industry over the last decades. Suprema's extensive range of portfolio includes biometric access control systems, time & attendance solutions, fingerprint live scanners, mobile authentication solutions and embedded fingerprint modules. Suprema is named the world's top 50 security manufacturers and has a worldwide sales network in over 140 countries with no.1 market share in biometric access control in EMEA region.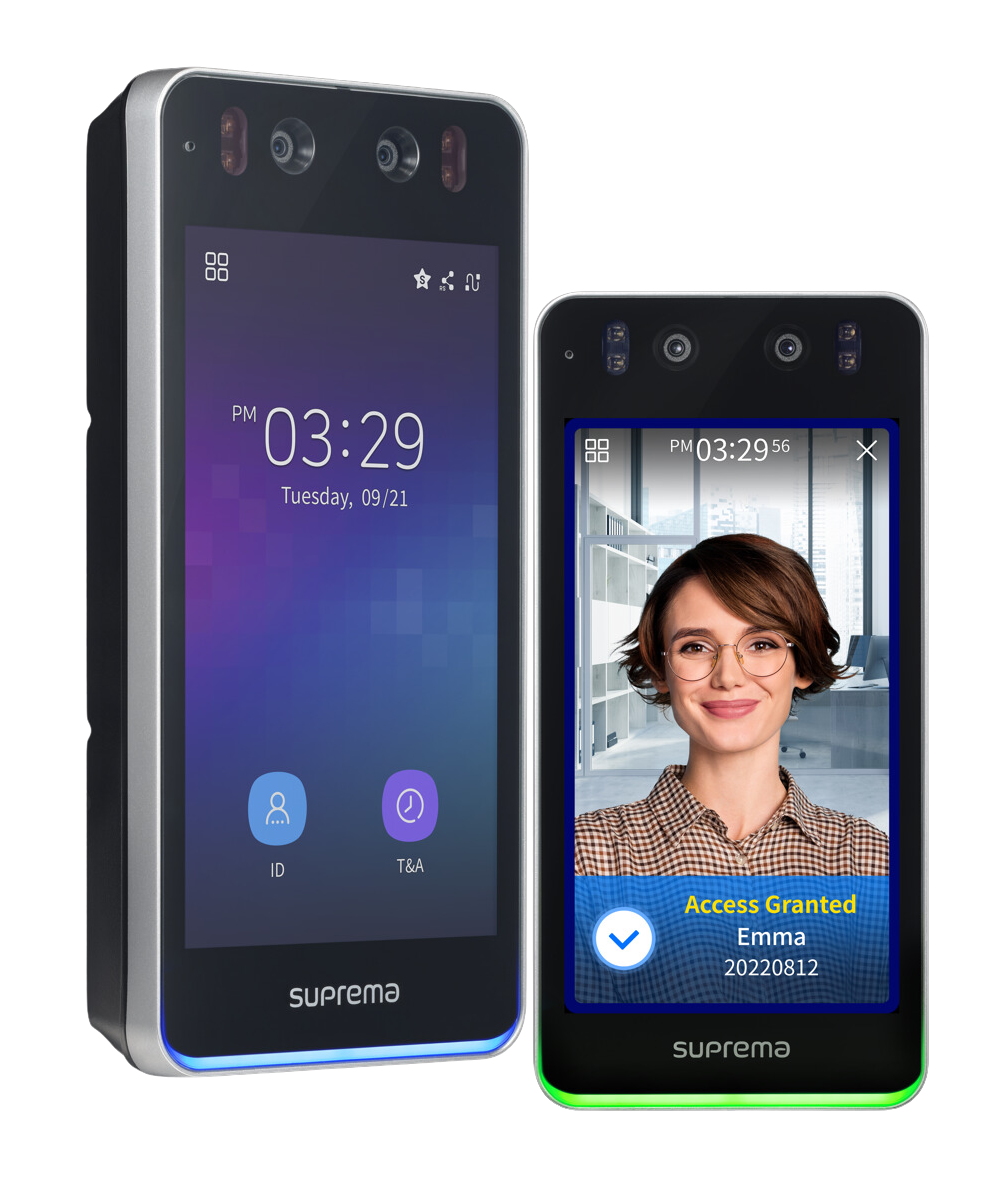 Biostation 3
BioStation 3 sets a new standard in access control, providing a new door access experience that enables improved security across all doors, for organizations of all sizes. This terminal is smaller than previous model, yet it has the largest variety of features. With highly advanced facial recognition, access credentials and usability features, BioStation 3 makes it easier than ever to safely, securely and conveniently protect an organization's physical security and users' personal data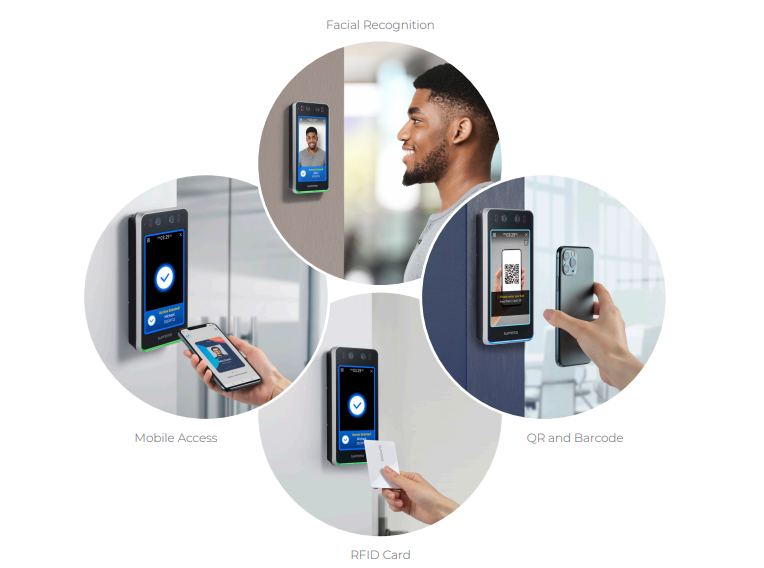 Facestation 2
FaceStation F2 boasts exceptional authentication accuracy achieved by the fusion matching of visual and infrared(IR) face recognition. Offering a wide range of authentication options including face, mobile access, fingerprint and cards.
Features:
Suprema's unique algorithm optimizes IR and visual face recognition to produce the industry's best face recognition and anti-spoofing performance.

Proven track record of authentication performance regardless of user ethnicity and face changes powered by deep learning algorithm.

Register up to 1 00,000 users for fingerprints authentication and 50,000 users for face authentication.

Supports dual frequency access cards, NFC and BLE-based Mobile Access Cards.

Template-on-Card allows authentication via biometric data stored in cards.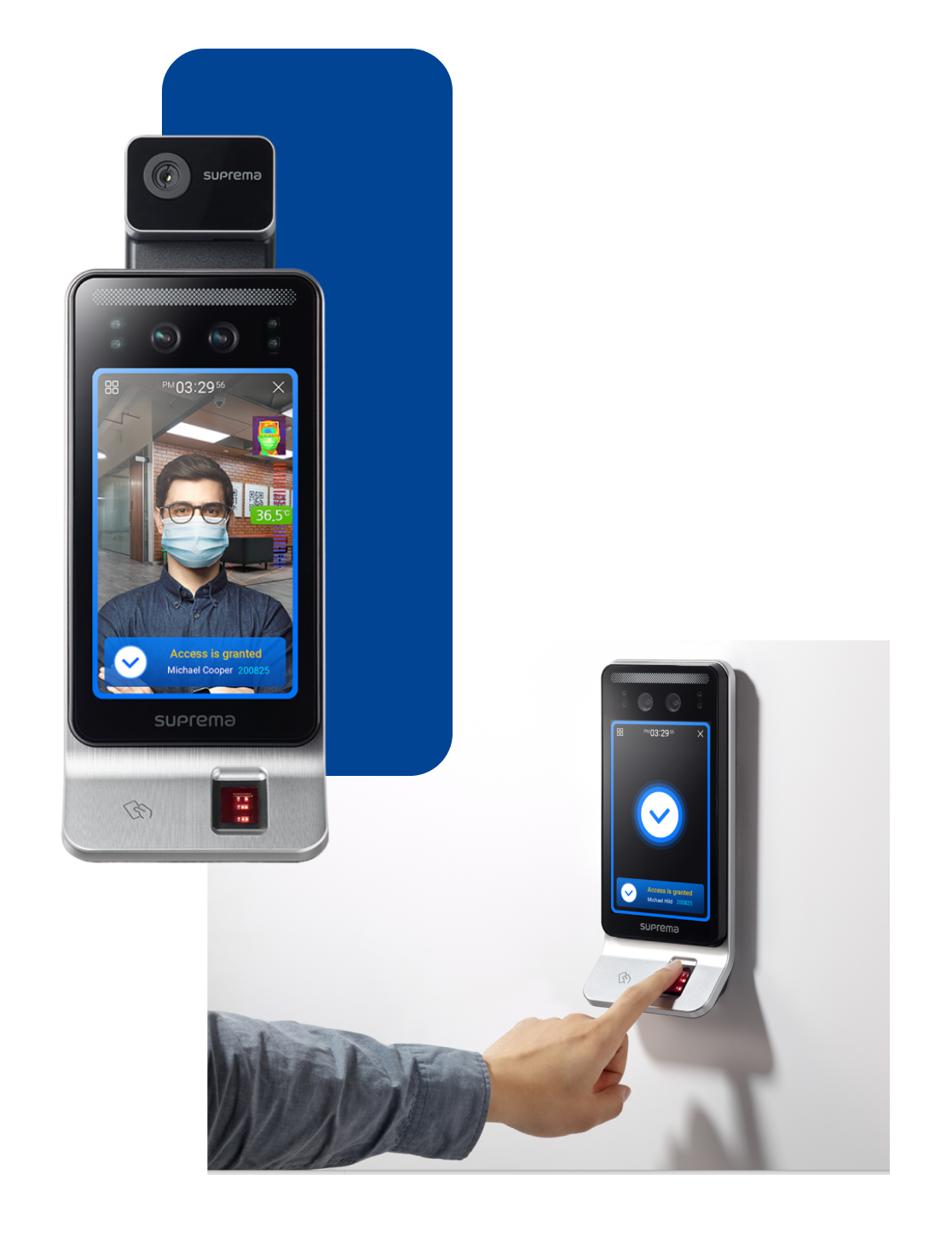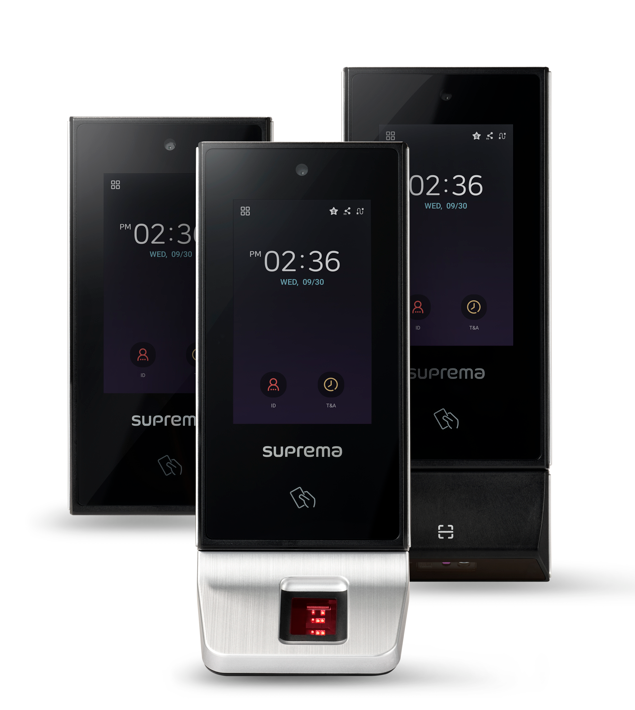 X-Station 2
Suprema X-Station 2 is a versatile intelligent terminal that supports different credentials, such as QR codes, Mobile Access, RFID cards and fingerprints, offering the ultimate flexibility in terms of credential options and system design. Equipped with secure boot process, Open Supervised Device Protocol (OSDP) and cameras for image logs, X-Station 2 improves security while safeguarding user data. X-Station 2 is easy to install, use and maintain with features like Power over Ethernet (PoE), intuitive GUI on 4 " wide touchscreen, and IP65 rating.
FEATURES:
Multi-technology Terminal with Various Credential Options

Multiple credential options of QR codes, Mobile Access, RFID cards and fingerprints can provide maximum system design flexibility

Go mobile, card-less and carefree by using smartphones as credentials
Leading-edge Fingerprint Recognition
MINEX-Certified Algorithm

Fake/Live Finger Detection (XS2-ODPB, OAPB only)

Max. Credential: 100,000 (1:N)
Comprehensive RFID Card Compatibility
LF (125 kHz), HF (13.56 MHz) dual-band

Reads various card types (EM/MIFARE/iCLASS/DESFire/FeliCa)
Enhanced Security and Data Protection
Protects data with secure boot process

Built-in camera captures image logs for added security

Open Supervised Device Protocol (OSDP) for secure bidirectional communication between the terminal and controller
Designed for easy deployment and management
Power over Ethernet (PoE) enables convenient installation with less wiring

Dust-tight and waterproof IP65 protection
Improved Usability of Intuitive UI on Touchscreen
Quick and easy access to features on 4" wide capacitive touchscreen

Customizable display on intuitive GUI
Expanded Capacity for more users and security logs
Max. 500k users, 5 million text logs, 50k image logs

Large memory: 16 GB Flash + 1 GB RAM