Adding new dimensions
We enable a smarter and safer world by creating network solutions to improve security and to find new ways of doing business.
The world is changing fast, and we make sure we stay ahead of those changes. We operate in the IT and security industries and have extended into the audio, voice over IP and building automation markets.
For a smarter, safer world
Our experience working with network video and audio solutions, analytics and access control contributes to the protection of people and property, process optimization, and increases business efficiency and information access.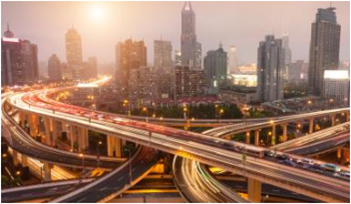 New opportunities
Network cameras create new opportunities to work with new applications. Axis has pioneered this market, showing how IP solutions stretch far beyond security applications. Retailers, for example, are utilizing the technology to manage their inventory and optimize store layout, while cities are using it to manage the flow of traffic, reduce vandalism – and much more.
We're also pushing the limits of image quality, by exploring how it can be optimized for the surveillance task at hand – no matter how bad the light or ambient conditions. And, another step in our long-term growth strategy is our recent expansion into the physical access control market.
Video surveillance made simple
Keep your business safe with an easy-to-use surveillance solution. With AXIS Companion, you can monitor your whole premises onsite, and even on-the-go. Flexible options provide a reliable solution that's ready to scale for any business need.
Whether you own a shop, hotel, office or any other small business, AXIS Companion will give you a complete security solution that's designed to keep your business safe. And give you extra peace of mind.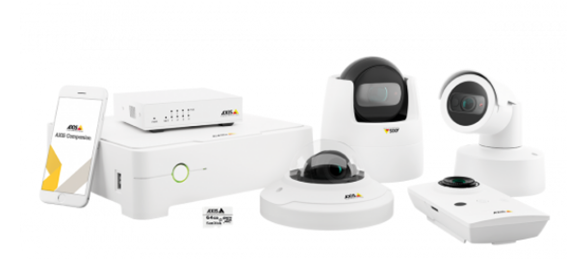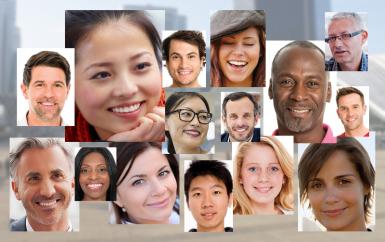 Matching faces
The facial recognition software matches faces taken from real-time video with a database of previously stored images of faces. You categorize the faces in the database based on your application need – be it access control, VIP detection, or wanted individuals.
When a face is captured on the camera, the matching takes place in real time, and a match or non-match either allows or denies access, or triggers an alarm alerting pre-determined stakeholders to take appropriate action.
Increased security with partner software
Protect your business with an end-to-end security solution backed up by purpose built software from the largest partner program in the industry. At Axis, we have the widest partner program in the industry, ensuring easy integration of any Axis product.
Axis partners provide video management and security solutions for any industry or application. Our partners range from specialized analytics vendors to suppliers of large-scale video management and access control systems that can include thousands of cameras. Because we work with so many expert companies, you are certain to find a high-quality video and security solution that meets your requirements.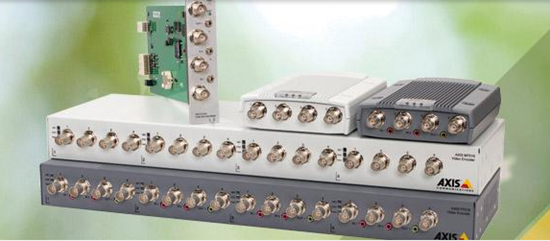 Migrate from analog to IP video at your own pace
Axis video encoders give you an easy, cost-effective way to integrate your current analog video system with the latest Axis network video solutions. You'll be able to migrate to network video at your own pace and enjoy the benefits of IP immediately, while maintaining the value of your investment in analog equipment.
Axis encoders give you access to intelligent features like multi-window video, motion detection, audio detection and active tampering alarms. The system can trigger events in order to automatically record incidents and send alerts by either email or text message. And configurable input/outputs for connecting external devices, such as sensors, relays and speakers make it possible to activate lights, open or close doors and trigger sound in response to events. Encoders also let users view live video using video management software or a web browser on any computer in a network.
A world of audio possibilities
Axis network audio systems are complete high-quality audio systems you can use in various situations:
Improve security on your premises with event-triggered announcements and direct callouts.
Make live or scheduled announcements in different zones, at the right time and right place.
Create ambiance with easy and flexible scheduling of great-sounding background music.
All while enjoying the many benefits of a network audio system.
Security
Stop unwanted activity in its tracks.
Public address
Broadcast to single or multiple zones.
Background music
Play music how and where you want to.
4 great reasons to choose Axis network cameras.
Better image quality
Axis network cameras provide excellent image quality regardless of lighting conditions and the characteristics of the monitored areas.
Clearer images
Axis network cameras can deliver up to 4K image resolution, and the HDTV cameras support SMPTE standard.
Smoother movement
Moving objects come out clear and flicker-free. The images are more useful for surveillance, thanks to progressive scanning used by Axis as compared to analog interlaced scanning.
In any light
Unlike analog cameras, Axis network cameras can compensate for less than optimal lighting: Axis Lightfinder gives you color images in low light and Forensic WDR delivers excellent detail in scenes with both bright and dark areas. OptimizedIR ensures high-quality and low-noise even in complete darkness. And Axis thermal cameras are accurate even in pitch darkness and fog.
Lower total costs
Even though analog cameras are less expensive than network cameras, you may need more of them. Accompanying labor costs and expensive equipment tip the
scales in favor of network cameras.
Fewer cameras
Axis HDTV cameras, can cover up to 360˚ and show zoomed-in sections and the full view at the same time. Analog cameras can only show one view each. Installing fewer cameras keeps installation and maintenance low. And streaming selected areas individually minimizes bandwidth and storage needs.
Less cabling
IP cameras connect easily to your existing data network. With Power over Ethernet (PoE) one cable per camera provides power, video, audio and data, making installation easy without the need of a power outlet close to your camera. This is even true for Axis multi-sensor cameras.
Built-in Intelligence
Analog cameras do one thing: record video. But network cameras combine intelligent features with direct notifications and remote monitoring.
Fewer security patrols
Our intelligent video solutions can send alerts of different kinds when a problematic situation arises. And set off an alarm when an unauthorized party crosses a predefined line or someone tampers with a camera. You can also choose to monitor high-quality live video from a central location. Either way, you'll save resources and money – and keep your premises safe – without the need for constant staff presence.
Scalable and Future-proof
A network camera system is easier to extend than an analog system and with Axis as your supplier, you're not locked in to proprietary technology.
Open standards
Axis network cameras are based on open standards. So you can use standard components and add intelligent analytics to turn your cameras into business tools. And you can connect your network camera system to other systems – like audio and access control.